Child categories, followed by articles in this category.
There are no child categories.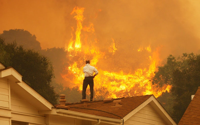 2022-05-20



Counter Punch
View In: Rain Bomb
The third-largest city in South Africa, Durban, has had a hellish month. The climate catastrophe witnessed in the city and surrounding areas left terrible wounds that residents here have not yet recovered from. The 350 mm (14 inches) of rain that pounded many areas of the province in a 24-hour perio...